Spring has deepened, and the plum blossoms have fallen and the small plum berries have begun to show their faces.
Next comes the cherry blossom season, which is well known abroad.
In fact, next to the park which is famous for plum blossoms, which I wrote about in my last article, there is a park famous for someiyoshino* cherry blossoms, and as of yesterday, a few blossoms were in bloom.
*I say someiyoshino is one of the most famous cherry blossom trees in Japan.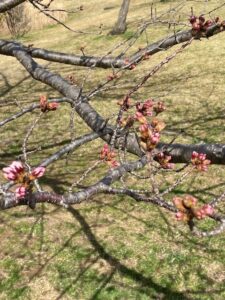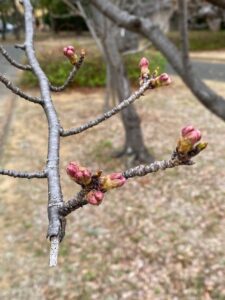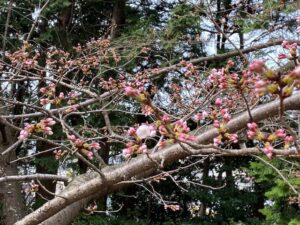 Cherry blossoms are a symbol of spring for Japanese people and are associated with graduation, entrance and initiation ceremonies.
And let's not forget hanami, or a cherry blossom viewing party (picnic), which is a traditional Japanese custom in spring.
Hanami is believed to have originated in the Heian period (794-1185), some 1,000 years ago.
The custom of hanami spread throughout Japan during the Edo period. During hanami, many people gather under the cherry blossoms and enjoy food and drinks together.
Japanese people love cherry blossoms because they are transient and only bloom for a short period of time.
Seeing cherry blossoms reminds us that life is short but beautiful.
Japanese people find beauty in ephemeral things such as cherry blossoms and fireworks.
Last year, my family and I drove to an even bigger park for a cherry blossom viewing picnic.
We spread out a large straw mat under a cherry tree, and although we did not bring alcohol, I remember spreading out our tiered food boxes and tucking into our lunch.
This year we plan to view cherry blossoms at the same park on 2 April.
I hope the flowers will last until then. What kind of tiered food boxes shall we prepare for this year…?